Posted on
By The Pastry Depot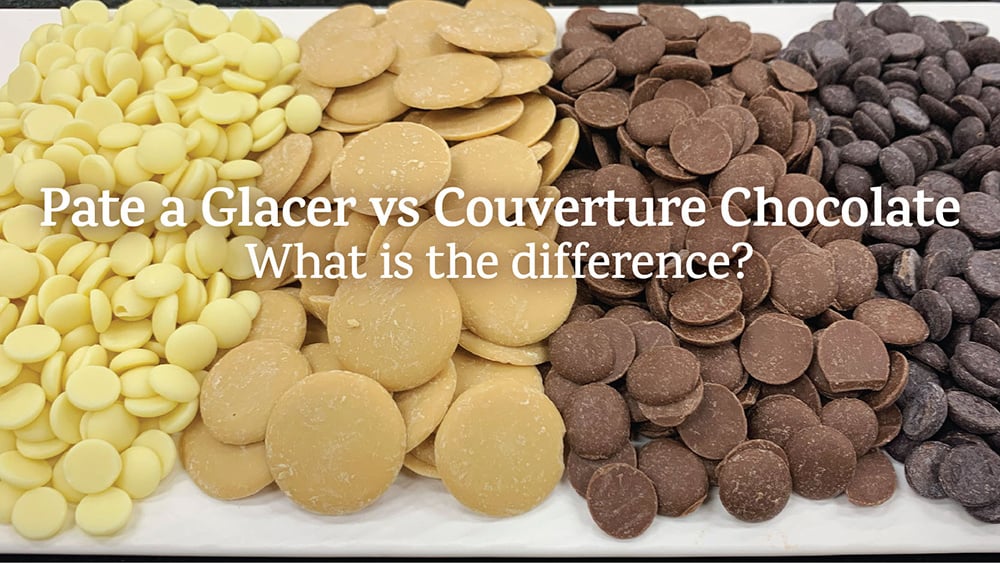 Pate a Glacer vs Couverture Chocolate: What is the difference and when should you use each one? Though they can be used in similar ways, they each have their own strength and application. Learn more and decide which is right for you.
When it comes to pastry kitchens, baking, and candy making, couverture chocolate and pate a glacer are two ingredients that are often used interchangeably, but they are not the same product. Like many other ingredients, there are many levels of quality and taste within both the pate a glacer and couverture chocolate categories. There are quite a few things to consider when deciding which is right for you.
What is pate a glacer? Coating chocolate, also known as pate a glacer or compound chocolate, is a type of chocolate that is made with vegetable oils rather than cocoa butter. It tends to have a waxier texture than couverture chocolate but is easier to melt and mold, making it a popular choice for dipping, making chocolate candy, cake pops, and other candy crafts. Coating chocolate is less expensive than couverture chocolate and comes in a variety of colors and flavors.
Couverture chocolate is a high-quality chocolate that contains a higher percentage of cocoa butter than regular chocolate. This results in a smoother, creamier texture and a more intense chocolate flavor. It is also more expensive than coating chocolate. Couverture chocolate is often used in professional pastry kitchens and by chocolatiers to make truffles, bonbons, and other high-end chocolate confections.
How is pate a glacer different from couverture chocolate? Pate a glacer is a hugely popular and convenient product used by pastry chefs around the world to finish pastry and confectionery creations. The biggest differentiator is that pate a glacer is a "chocolate" that requires no tempering! This means all you have to do to achieve a beautiful dipping or coating chocolate is gently melt the pate a glacer, being careful not to burn it. Once your pate a glacer is completely melted, it's ready to use!
Why might you choose pate a glacer instead of couverture chocolate? Pate a glacer can be used with ease by professionals and those making treats at home. Coating chocolate saves time, lessens the human error factor, and creates a uniform and consistent product every time. In a professional kitchen, it allows kitchen staff without in-depth pastry knowledge to assist pastry staff, which is often in need of more hands. Some prefer pate a glacer over couverture chocolate for dipping items like strawberries, Oreos, and cake pops because they do not need as rich of a chocolate flavor.
So, when would you choose to use tempered couverture chocolate instead of coating chocolate? Couverture chocolate is a delicious option but working with it requires tempering, and tempering is not a beginner skill; it is a technique that takes time and practice to master. Couverture chocolate has to be correctly melted and cooled to a precise temperature to achieve a shiny chocolate product with the right snap. This heating and cooling method is known as "tempering." Even for seasoned chefs, tempering couverture chocolate can be a tedious process, and the smallest change in humidity or tiniest droplet of water will ruin your best efforts to temper properly. If your tempering is incorrect, your chocolate can bloom, bonbons will not release from your mold, it may be dull instead of having a beautiful shine, or it can seize up and become a grainy mess in literal seconds if it encounters any moisture.
That said, there are many pros to tempering chocolate and it opens up a world of possibilities with so many different types of chocolate, from the basics like white or milk chocolate to exciting chocolates flavored with fruit, nuts, or even corn. In learning to temper, you have a skill that is difficult to master but once you've got it, you're not likely to lose it. There are also a variety of ways to temper couverture chocolate and achieve a beautiful end product, so there are many ways to learn.
Much of the choice between pate a glacer and couverture chocolate comes down to personal preference, but you also have to consider the desired end product, convenience, cost, and skill level. Some find the waxier feel of coating chocolate off-putting, so they prefer to work with couverture chocolate. Couverture chocolate is definitely a more premium product, but pate a glacer saves time by eliminating the need for tempering. Though couverture chocolate typically costs more per pound, it is necessary if you will be using traditional polycarbonate or tritan molds to make bonbons or bars, as coating chocolate will not release from the molds. Regardless of which product you need, you can find them both at The Pastry Depot!