What is the guaranteed shelf life on perishable products?
All regular-priced, perishable products with manufacturer best by dates will have a shelf life of at least 90 days. When an item hits the 90-day threshold, it will be noted as a short sale item along with the manufacturer's best by date in the product description and may be offered at a discounted price. Please contact The Pastry Depot at 404-458-3194 or [email protected] for any inquiries as to current best by dates on a specific product prior to ordering.
Learn more about best by dates on our blog!
I am trying to order but it is saying you do not ship to my country. Why?
The most likely cause for this is your order being over the carrier weight limit. If this happens, please contact us so we can create a custom order for you or split your order into two separate orders. Reach out to us at 404-458-3194 or [email protected] if you have any questions or continue to have issues placing your order.
What are your hours of operation?
We are open for curbside pick-up Monday-Friday from 10:00am - 3:00pm EST.
Where are you located?
We are located at 1430 Chattahoochee Ave NW in Atlanta GA.
How long are curbside pickup orders held?
Curbside pickup orders are held for 14 days, after which your order may be refunded and cancelled if it has not been picked up and we are unable to reach you. Orders containing short sale products are eligible for a refund at The Pastry Depot's discretion. If you are unable to pick up your order within 14 days or would like to have your order shipped instead, please contact [email protected].
What are your holiday hours?
We are closed Memorial Day, 4th of July, Labor Day, Thanksgiving Day and the Friday after, and Christmas Eve through New Year's Day.
Are estimated shipping times guaranteed?
The only guaranteed shipping methods are UPS Next Day Air, UPS 2nd Day Air, and UPS 3-Day Select. (However, UPS has currently suspended its UPS Service Guarantee due to the COVID-19 pandemic.) USPS Priority and UPS Ground shipping times are estimates and not guaranteed. Please also note shipping times include business days only; Saturday & Sunday do not count toward estimated shipping time.
USPS ESTIMATED SHIPPING MAP FOR PRIORITY MAIL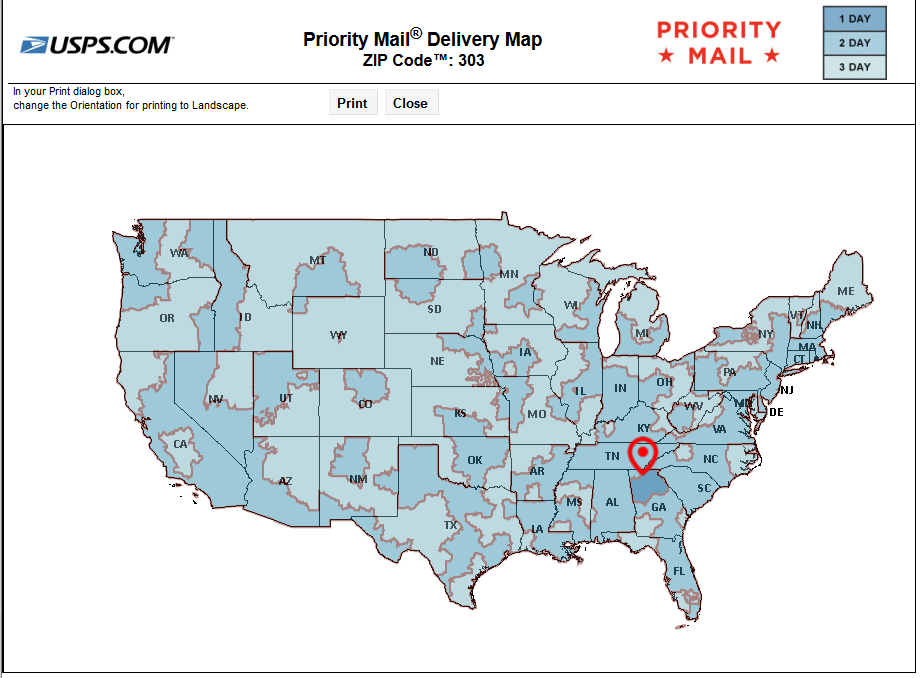 UPS ESTIMATED SHIPPING MAP FOR GROUND MAIL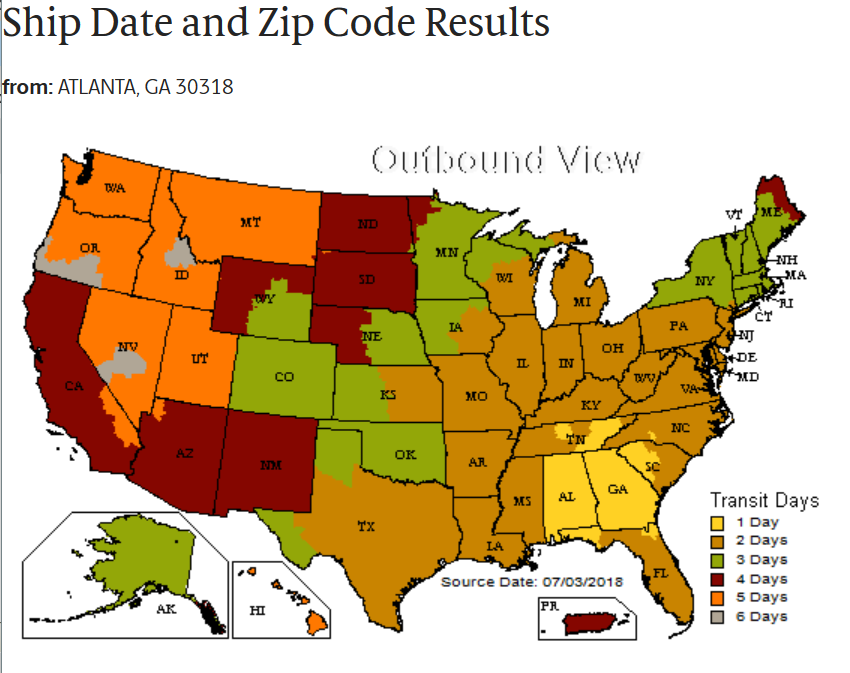 *** These shipping times are only estimates provided by the shipping carrier, other factors can preclude these delivery estimates from the carriers such as weather and mechanical problems and should only be taken as an estimate.  The Pastry Depot is not held responsible for any deviations from the estimated delivery times.