ARE YOU SHIPPING TO A WARM WEATHER AREA WITH TEMPERATURES ABOVE 70F DEGREES?
Please arrange delivery to an air-conditioned location, for example: your office, where your package can quickly be brought indoors immediately.  Someone must be present to receive the package otherwise, the shipping carrier will leave packages outdoors and your product will become damaged due to extreme temperatures.
Note: even if your area is not experiencing temperatures above 70 degrees, your order may be shipped from or travel through locations with higher temperatures so shipping via expedited options and with ice packs may still be necessary.
CAN YOU GUARANTEE THAT MY CHOCOLATE WILL ARRIVE IN PERFECT CONDITION?
All Perishable foods and Chocolates that leave our temperature-controlled warehouse are inspected and verified to be in perfect condition. Despite best efforts, we cannot guarantee that your products will arrive in perfect condition and are unable to issue refunds or replace products damaged by extreme temperatures if a shipping option other than UPS Next Day Air is selected and an ice pack kit is not included. Someone must be present to receive the package and bring it inside immediately.
HOW ORDERS ARE SHIPPED
Warm Weather Locations
You will see conditions on each chocolate product page with a check box acknowledging your agreement to these shipping conditions prior to completing your purchase. If the agreed conditions are not carried through during check out, then there is no possible refund or exchange of perishable product.
When shipping to a location with current temperatures above 70F, UPS Next Day Air must be selected during check out. If a shipping method other than UPS Next Day Air is selected, there is no possible refund or exchange due to potential melting of products.
During warm weather months, generally late March/early April through October, we ship Monday through Wednesday for USPS Priority and UPS 2nd Day Air.  UPS Next Day Air ships Monday thru Thursday.  Orders placed after 2:00 PM EST on Wednesday or Thursday, depending on your shipping selection, will be shipped the following Monday.  This limits time in transit so that your order doesn't sit over the weekend in a hot non air conditioned warehouse. 
The UPS Ground shipping option will be visible during the check-out process, however it should NOT be used during warm weather months or your chocolate will not survive the delivery if your transit time is more than 1-2 days. See the estimated delivery time maps below.
Cool Weather
During the cooler months, generally November thru March and under 70F degrees, the UPS Ground shipping method can be used during cooler weather but we still suggest USPS priority, UPS 2 day Air or UPS Next Day Air shipping method to minimize shipping time.
During cooler weather we ship Monday through Friday, orders placed after 2pm EST on Friday will be shipped the following Monday.  Please see the estimated delivery time maps below.
If you are shipping to a warm weather location (temperatures are over 70 degrees) such as Florida, Texas, California etc, please select UPS Next Day Air shipping during checkout and consider adding an Ice Pack Kit to your shopping cart to prevent melting. 
Unfortunately, due to the nature of chocolate, The Pastry Depot cannot be held responsible for any chocolate melting during transit and after delivery if the order is placed with a shipment method other than Next day Air and an Ice Pack kit is added to the cart. Someone must be there to bring the package inside immediately. 
Deliveries may be sent to U.S. addresses only if they are within the 48 contiguous states. Regretfully, we cannot ship perishables or Chocolate to P.O. boxes, Puerto Rico or the Virgin Islands. We are not responsible for delays in delivery times due to incorrect or incomplete addresses.
WILL A THERMAL INSULATED SLEEVE AND ICE PACKS PROTECT MY CHOCOLATE PRODUCTS?
From our experience a thermal insulated sleeve used in conjunction with ice packs will keep your products protected as long as the time in transit remains two days or less in temperatures over 70F degrees. Once temperatures have reached 80F degrees, the ice packs may only last 24 hours.
HOW LONG DO ICE PACKS LAST?
Ice packs will not last longer than two days.  In extremely hot temperatures, ice packs may last only one day. Once you get them, the ice packs are reusable and are perfect for a lunch bag or cooler.
AFTER YOUR PRODUCT ARRIVES
Keep chocolate in a cool, dry place at 60–65 degrees. Not following these storage conditions will cause chocolate to "bloom," or develop a light-colored powdery surface on the chocolate, caused by sugar or fat crystals rising to the surface. When this happens, the chocolate is still safe to eat, but the texture may suffer. To prevent bloom, make sure the chocolate doesn't get too warm or experience extreme fluctuations in temperature.
DAMAGED CHOCOLATE
We cannot issue a refund or replacement for products damaged in transit due to extreme temperatures. We will certainly do our best to provide the safest and most cost-effective options so please call us if you have questions.
If you receive a product in unusable condition for reasons other than temperature extremes, contact us within 24 hours of verified physical receipt of package. We will not be able to issue credits or refunds for claims submitted after 24 hours and photographs of the products and shipping packaging are required.  If a damaged product has been discarded, we will not be able to issue credit.
REFUSALS
Due to the delicate nature of our chocolate, if shipments are refused, we cannot guarantee that the chocolate will not be damaged. If you find a package was damaged while in transit, communicate the damage to the shipping carrier.
USPS ESTIMATED SHIPPING MAP FOR PRIORITY MAIL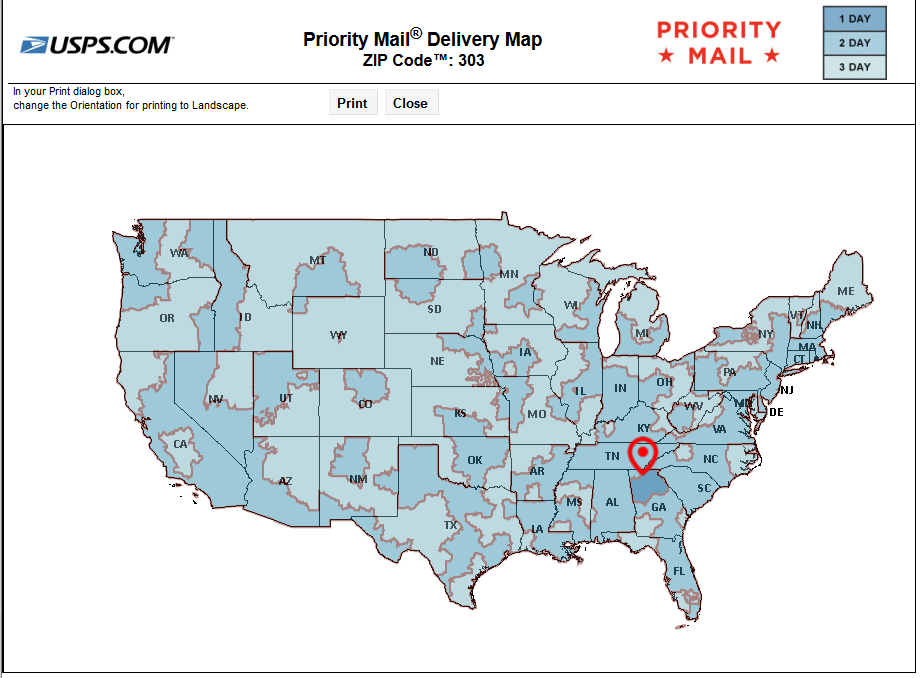 UPS ESTIMATED SHIPPING MAP FOR GROUND MAIL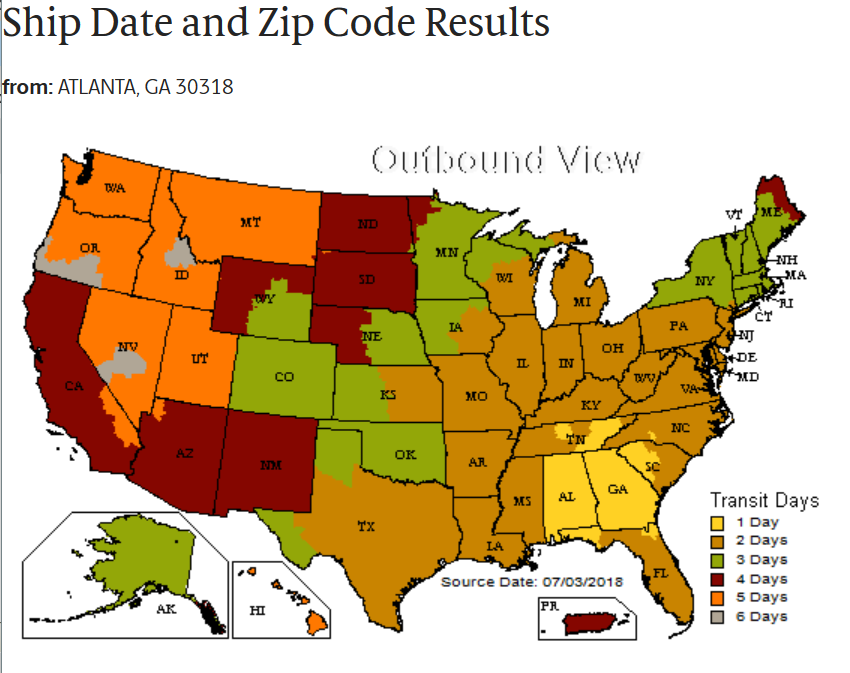 *** These shipping times are only estimates provided by the shipping carrier, other factors can preclude these delivery estimates from the carriers such as weather and mechanical problems and should only be taken as an estimate.  The Pastry Depot is not held responsible for any deviations from the estimated delivery times.