SHIPPING
Shipping is available in the U.S.A. only. Regretfully, we are currently not able to ship internationally.
Shipping charges are subject to change and may include sales tax depending on the state.
The Pastry Depot is not responsible for delivery errors due to incorrectly entered shipping addresses. Any additional cost incurred due to an incorrect shipping address will be the sole responsibility of the customer.
We are unable to ship to PO Boxes or to APO and FPO locations.
Currently, we ship orders Monday-Friday and make every effort to ship orders within 24 hours of order placement. All orders placed after 12:00pm EST and holidays will ship the next business day (Monday-Friday). Please note shipping time estimates include business days only. During warm weather we generally ship chocolate and other temperature-sensitive items Monday through Wednesday unless UPS Next Day Air is selected, as to avoid orders sitting in a warm warehouse over the weekend.
We offer various shipping methods through UPS and USPS, respectively, including Ground, Priority, 2nd Day Air, and Next Day Air. Please note UPS does not make deliveries on Saturday unless it is requested and UPS Saturday delivery requires an additional $14 fee on top of regular shipping costs. If you need expedited, overnight Saturday service, please contact us at 404-458-3194 or [email protected].  
If your cart contains items that must be shipped ground due to carrier shipping restrictions, we reserve the right to ship your entire order through ground shipping even if you have requested another delivery method. 
Estimated delivery dates are provided by the carrier and do not include weekend days or holidays. The Pastry Depot is not responsible for carrier delivery delays. Shipping charges will not be refunded for carrier delivery delays, including when expedited 2nd Day Air or Next Day Air shipping is requested but not delivered in the expected time frame. However, please contact us at 404-458-3194 or [email protected] with issues related to paid expedited shipping orders not arriving within the expected time frame.
Note: The number of days in transit does not include the day you placed your order.
Unfortunately, due to the nature of chocolate, The Pastry Depot cannot be held responsible for any chocolate melting during transit and after delivery if the order is placed with a shipment method other than Next Day Air. Contact us directly prior to purchasing if you have any questions.
When ordering chocolate to be delivered to known hot locations or during warm weather months above 70F, some melting may occur during transit and/or after delivery when left outside. Chocolate orders are not shipped over the weekend due to hot conditions of shipping carriers. 
If placing an order than contains a combination of items that must be shipped overnight (i.e. chocolate) and items that can be shipped at ground speed, please place two separate orders. This will help reduce the cost of shipping to you.
USPS ESTIMATED SHIPPING MAP FOR PRIORITY MAIL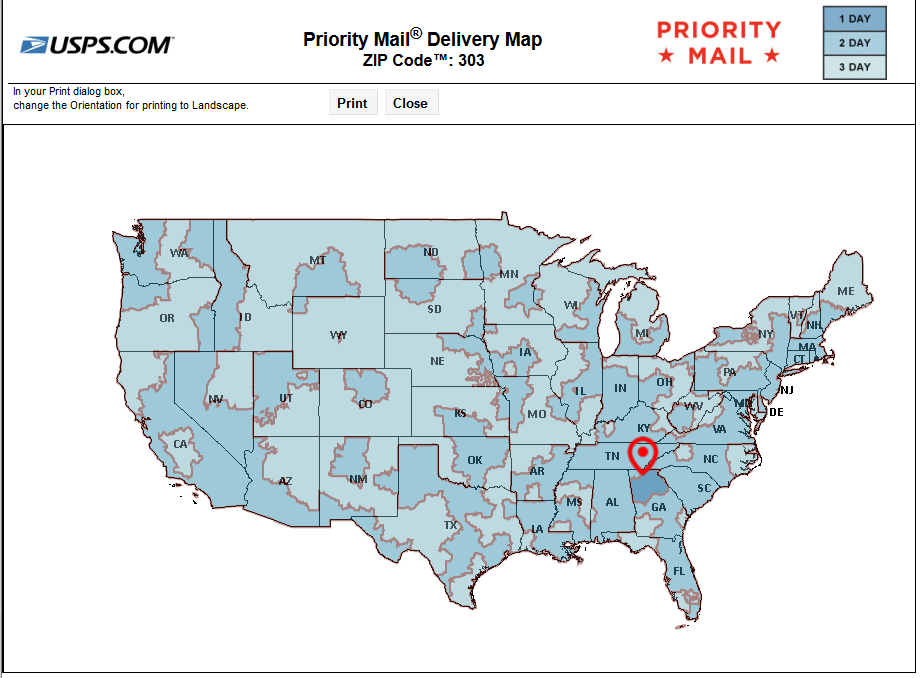 UPS ESTIMATED SHIPPING MAP FOR GROUND MAIL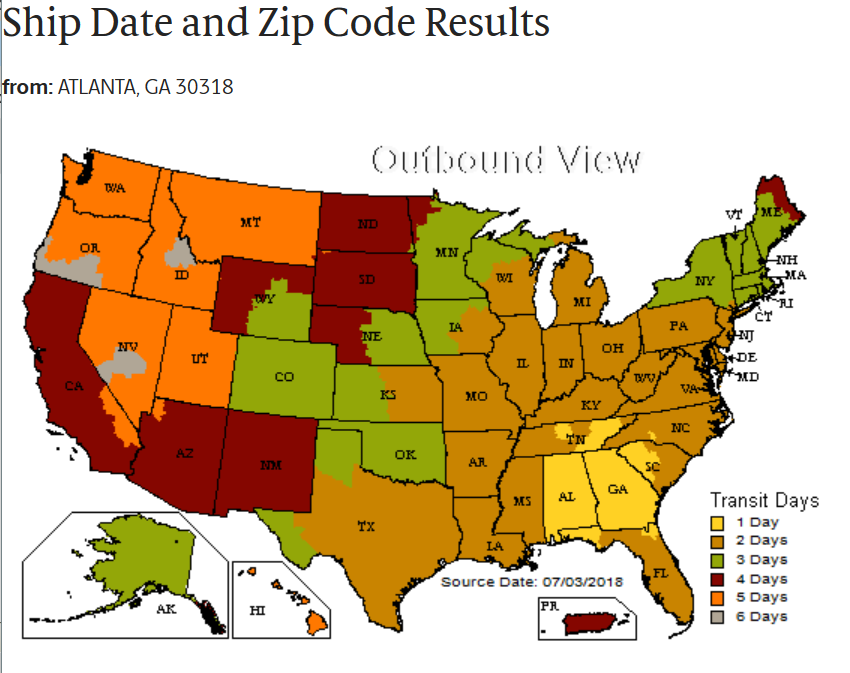 *** These shipping times are only estimates provided by the shipping carrier, other factors can preclude these delivery estimates from the carriers such as weather and mechanical problems and should only be taken as an estimate.  The Pastry Depot is not held responsible for any deviations from the estimated delivery times.
IN-STORE (CURBSIDE) PICKUP

Though our retail store is currently closed to the public, if you are local to Atlanta, you can place your pick-up order online or by calling 404-458-3194. You will be notified by email once your order is ready to be picked up. Please allow two hours for your order to be prepared. There may be a wait if you arrive prior to being notified your order is ready.
Our retail store is located at 1430 Chattahoochee Avenue NW in West Midtown Atlanta is open for curbside pick-up from 10:00 AM - 3:00 PM Monday through Friday. When you arrive to pick up your order, just give us a call and we will bring it out to your car. Your order will be held for 72 hours, if it has not been picked up or scheduled to be picked up your items will be restocked and your order refunded to your original method of payment minus the restocking fee of 20% or $5.00, whichever greater.
WHOLESALE LOCAL DELIVERY
We provide local delivery within 30 miles of our store ($150 minimum purchase) to Professional Chefs currently working in the industry.
RETURNS & EXCHANGES
Unfortunately, we cannot accept returns of food items as, for the safety of our customers, we are not able to resell a food item that has not always been in our control.
We regularly receive new product from our suppliers to provide the freshest available products to our customers. Due to the nature of food products, we will personally guarantee all food products within 30 days of their expiration dates, unless otherwise noted in the product description as a short sale item. If, by chance, we mistakenly ship a product that is within 30 days of its expiration date and do not have it identified in the description as a short sale item, we will gladly exchange the product for you as long as it is in its original, sealed packaging. Please contact us so that we can initiate an exchange. All sales on short sale items are final and not eligible for any returns, exchanges, or credits.
We can accept returns of non-food items. If non-food items are damaged, they may be returned as long as you contact us within 24 hours of having received your order. Any other returns of non-food items are eligible for return within 30 days of purchase. All returned non-food items must be unused and in its original packaging to be eligible for refund.
To make sure that you are satisfied with the product you receive, inspect the contents as soon as they arrive. Due to carrier claim requirements, damaged and defective products must be reported to The Pastry Depot within 24 hours of delivery.

Returned items will be inspected upon arrival at our store. Items need to be in perfect, resalable condition to be eligible for the customer to receive a store credit on the return. A credit for the cost of the item will then be issued to your account, less shipping. All returned items are subject to a $5 or 20% restocking fee, whichever is greater.  Refunds on returned items will be issued in the same method as original payment. Please allow 7-10 business days for the credit to post on your credit card.
All sales of food items, discount items, holiday items, and books are final.
DEFECTIVE OR DAMAGED MERCHANDISE
The Pastry Depot takes extra care in packing and protecting orders from breakage during shipping. However, even with the use of "fragile" labels on packages, careful handling of packages throughout the shipping process cannot be controlled. When determining how much product to order, it is recommended to account for 10% breakage during shipping for fragile or delicate items to provide coverage for any product that may be damaged in transit.
We take all possible measures to assure your order is received intact and in proper condition. However, sometimes the route to you gets a bit more bumpy than anyone can control. In the event you receive a defective or damaged product, please contact us immediately (within 24 hours of delivery) after receiving your order. Do not throw way or discard any items, as we may require them to be sent back. The easiest way to help us resolve any defective or damaged merchandise is to email a description of the damage or defect, and pictures of the item(s) and the external packaging to [email protected]. Please also call us at 404-458-3194. Depending on the issue, order issues may be resolved with a replacement product being issued, a store credit, or any other means we feel is appropriate.